Partners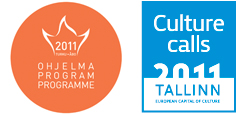 This project is supported and financed by Turku 2011 and Tallinn 2011, European Capitals of Culture. It was made by Atelier Limo. Atelier Limo would like to thank all those who supported the project, especially Niina Helander, Cay Sevón, Birgit Krullo et Triin Männik. We also thank those who gave us an interview - and whose name appear in the database - as well as the people, institutions and organizations that helped us on the premises while we were travelling and searching:
In Finland:
Mika Akkanen and the town of Turku, Turku's Orthodox church, the architecture office Pekka Vapaavuori, Hannu Rastas and the organization Johannes, the association Agricola, Paimio's electricity museum, Sture Lindholm and Ekenäs high school, Karin and Hans in Tammisaari, Hanko's tourist office, Hanko's front-line museum, Degerby's Igor museum, the Singers of Viipuri and the Karelia house, the town of Helsinki, Helsinki's sports museum, Suomenlinna information centre, the Alexanteri theatre in Helsinki, Kjell Westö, Liisa Koho and Maarit Laitala and the Vellamo museum in Kotka, Markku Koskinen from the port of Kotla, the Kuolemäjärvi association, the fishmonger's « Y Antona » in Virolahti, Lappeenranta's tourist office, Lappeenranta's Russian-speaking school, Säkkijärvi's association, Imatra's tourist office
in Russia:
the « International Paper » company in Svetogorsk, Vladimir Vassiliev and the town hall of Svetogorsk, the « Viipurikeskus » from Vyborg, Lenin's museum in Vyborg, Boris Nikolaevitch Tsistikov in Sovietsky, Primorsk's cultural centre, Alexander and Michail Bravo in Zelenogorsk, Vadim Musaev and St-Pétersburg's history institute, Kylli Sulg in St-Pétersburg, the Smolny museum in St-Pétersburg, Tuulikki Vilhunen and the « Inkeri » newspaperthe members of the « Pyhä Maria » church in St Pétersburg, the Lutheran community of Keltto, the town and the museum of Kingisepp, the Lutheran community of Kingisepp
In Estonia:
the tourism department of the town of Narva, the museum of the town of Narva, the museum of Narva-Joesuu, the « Baltic heritage » network, Darja Popolitova, the Sillamäe museum, Darja Popolitov, Ivika Maidre and the Vaivara Sinimägede museum, the town of Kohtla-Järve, Kohtla-Järve's museum of bituminous schism, Kohtla-Nömme's mine museum, the town of Rakvere, Kunda's town club, the national opera of Estonia, Tallinn's occupations museum, Tallinn's synagogue, Tallinn's television tower.

Thanks also to Nicolas Kapfer (KNet Solutions) for the website development. Thanks to Emmi Kuusela for her valuable collaboration and for the translation of some of the texts. Thanks to Antero for his help and to Christina and Hannu. Thanks to the translators Kadri Kaldmäe, Leena Lehtonen and Adele Huxley. Thanks to Pascal Orcier and to Nicolas Escach who helped us in our reseaches.